Lighting Design Techniques
At night, people perceive light in a very simple manner. Light that commands attention is called focal glow — it fixes our gaze and creates interest. Light that does not grab our attention is known as ambient luminescence. It serves as background lighting between focal points.
When painting a landscape with light, there are a series of fundamental lighting techniques you will use on almost every jobsite to develop both focal glow and ambient luminescence and bring nighttime living spaces to life.
Up Lighting
---
Up lighting, or accent lighting, is the general description for several techniques that utilize surface-mounted or recessed fixtures that deliver light upward.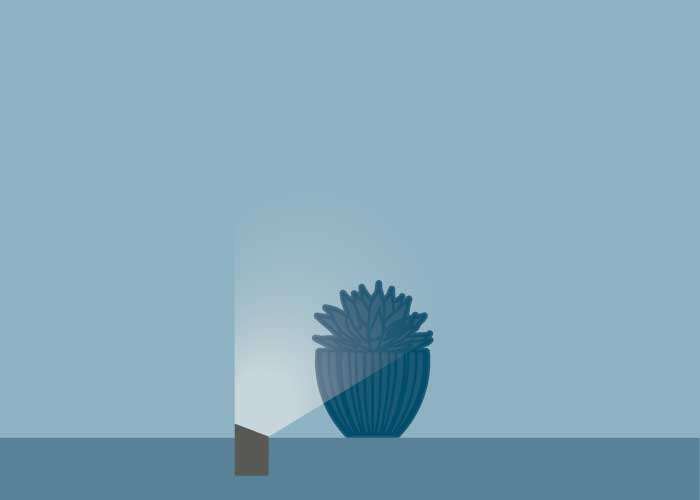 Highlighting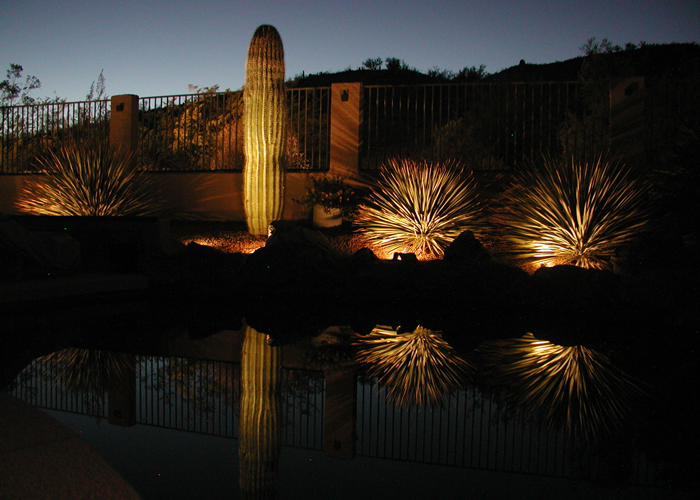 Highlighting is commonly used to illuminate a specimen shrub or tree by placing one or more spotlight fixtures at the base of the subject and angling them upward, illuminating both the bark and canopy.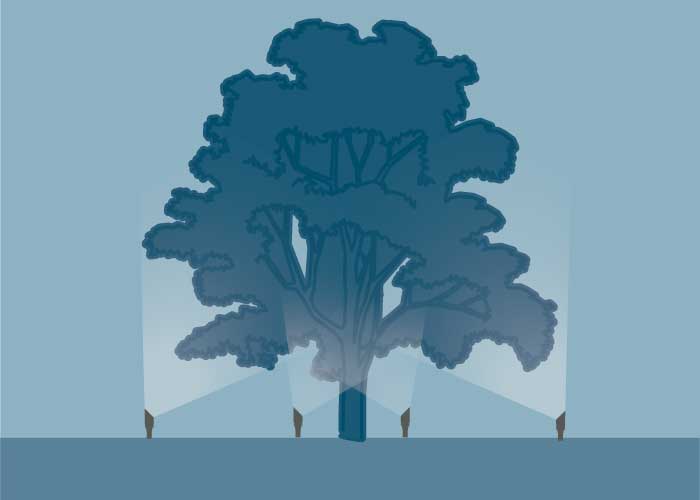 Cross Lighting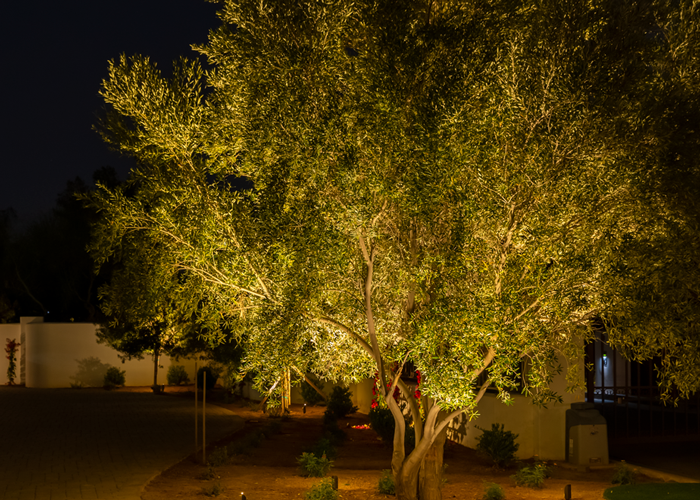 Use a cross-lighting technique by installing several fixtures that light the subject from multiple angles and emphasize its three-dimensional form. If you use only one or two fixtures, you risk creating a flattened "hot spot."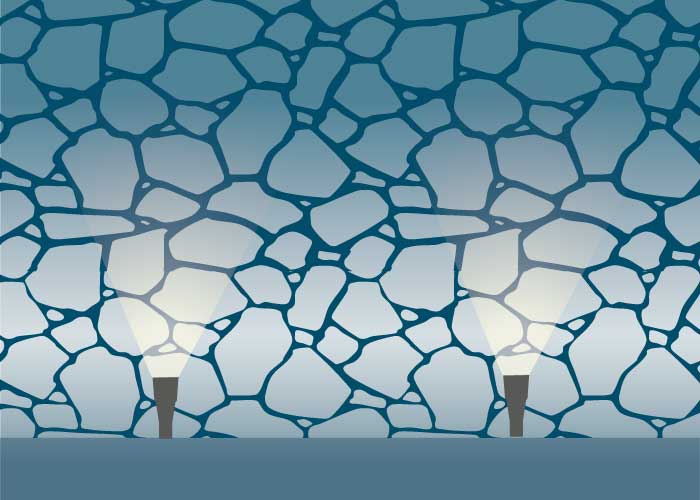 Grazing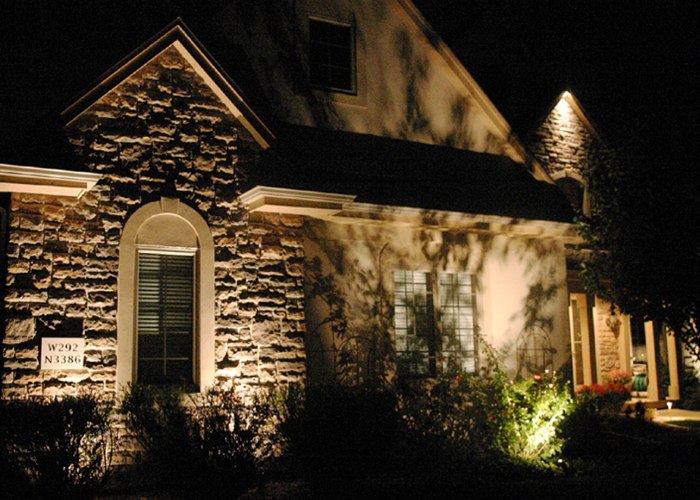 When rough surfaces are illuminated from a distance or with a light source perpendicular to the surface, the texture will visually flatten due to the grazing technique. Use this method on stucco, stone, brick, and more.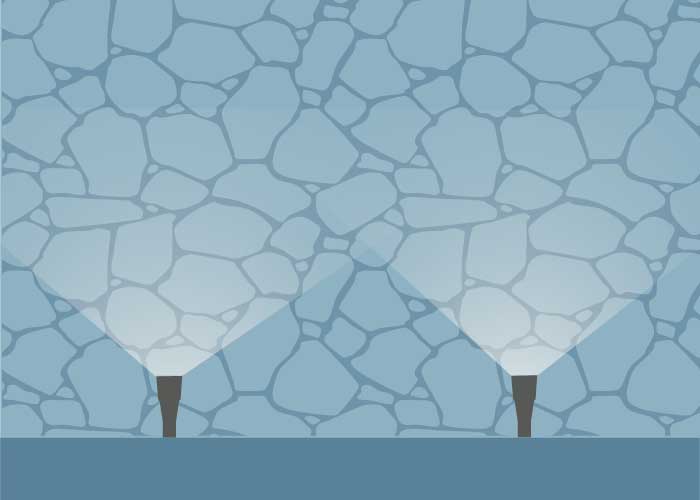 Wall Washing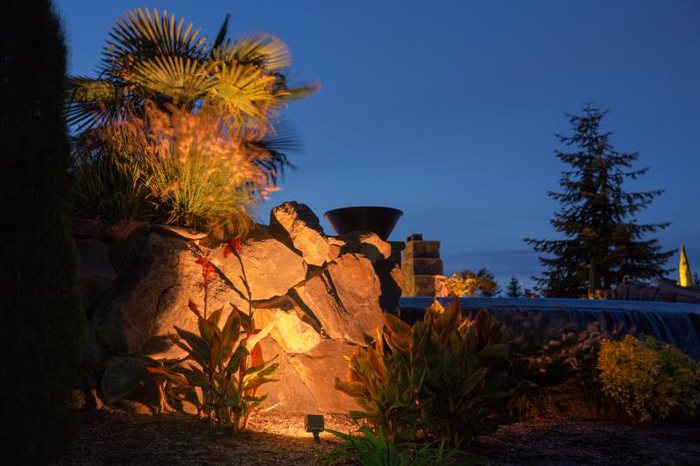 Wall washing is used to smooth flat surfaces visually. This technique involves aiming light uniformly and evenly across a wall to emphasize its flatness.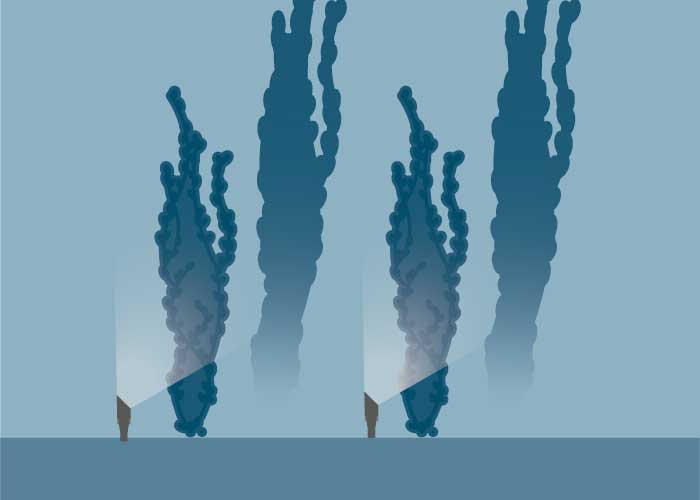 Shadow Lighting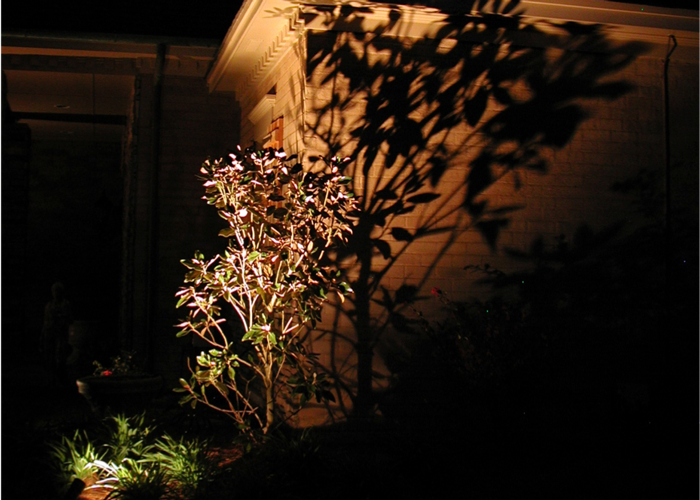 Shadowing is a versatile technique created by placing a fixture in front of a plant or any other object that has a tall, flat surface behind it. Illuminating the subject casts dramatic shadows on the backdrop.
Sihouetting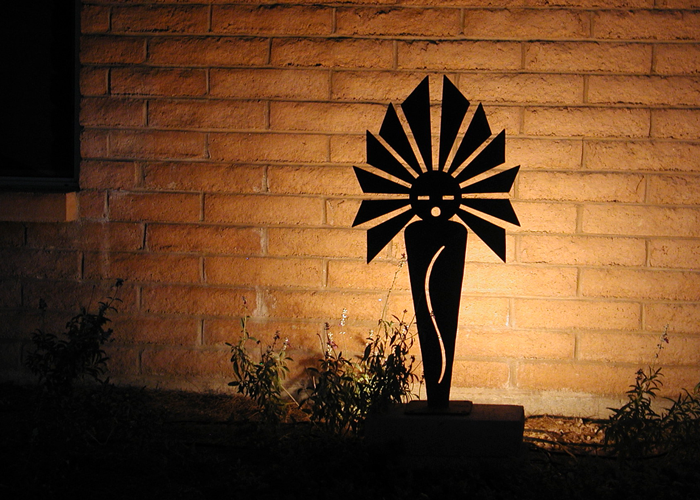 Silhouetting is one of the most dramatic up lighting techniques. A silhouette is created when strong light is placed between the subject to be silhouetted and an adjacent wall.
Down Lighting
Down lighting produces the most natural form of illumination because it mimics natural light sources like the sun and moon, which direct light downward from above.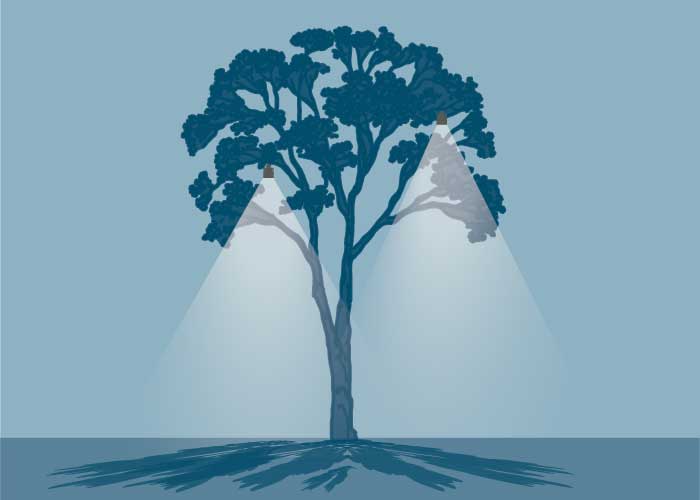 Moonlighting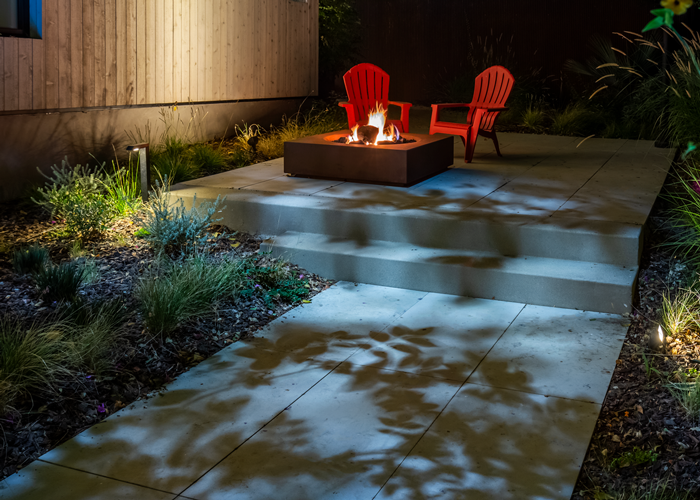 The original down lighting effect, moonlighting is achieved by positioning light sources in trees high above the landscape, where they cast diffused light down through the limbs, branches, and leaves.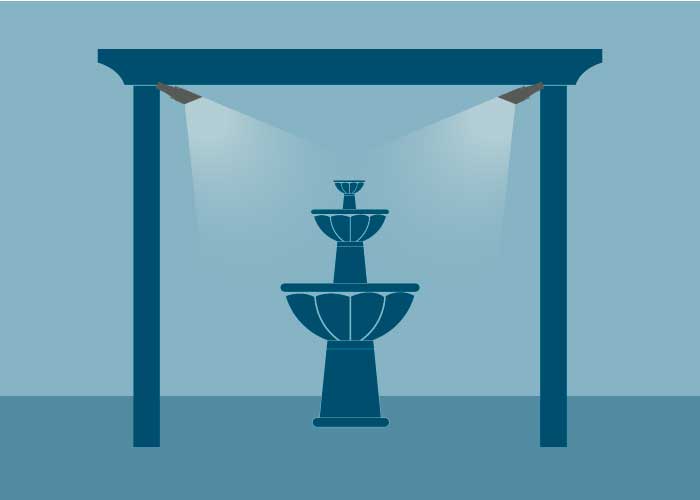 Accenting Garden Art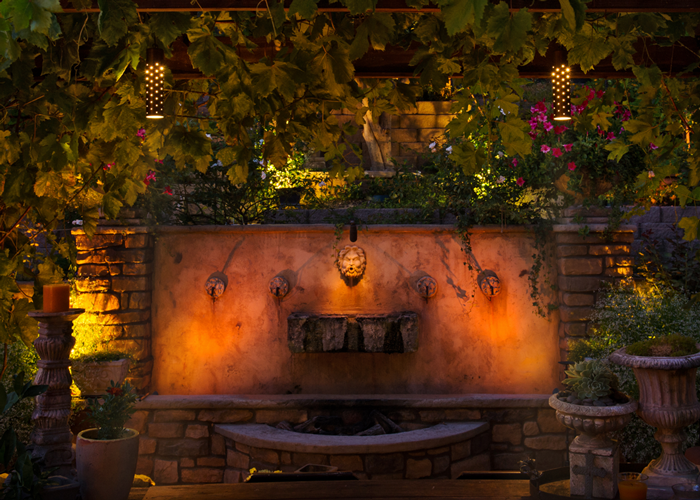 Utilize a remote light source with a very narrow beam angle to embellish garden elements such as trellises, boulders, and statues while keeping the source of light undetected.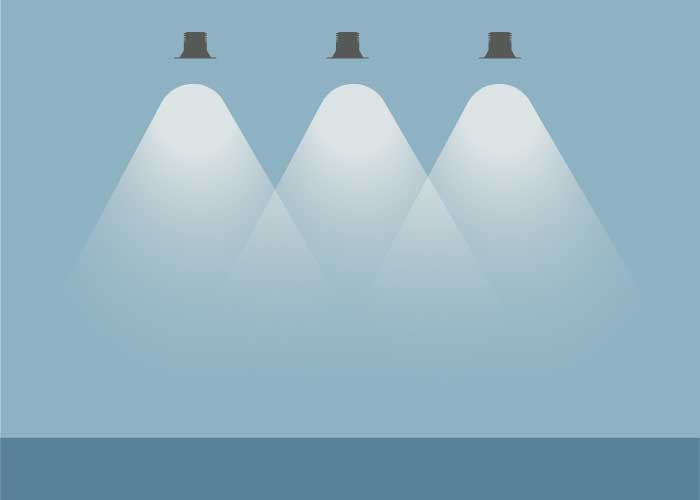 Scalloping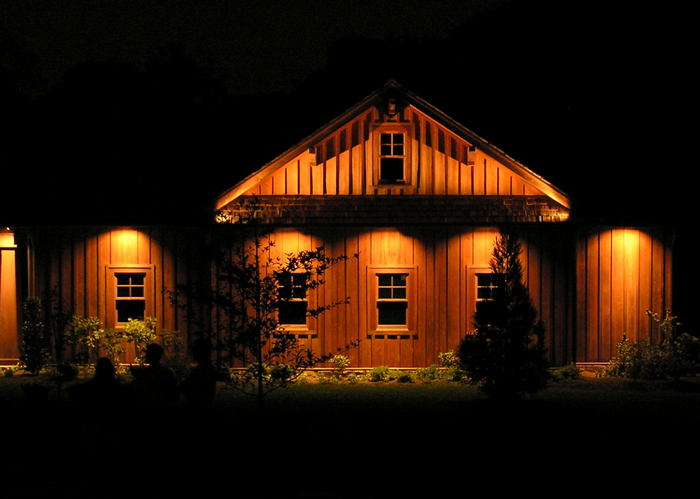 Scalloping helps create rhythm by highlighting repeating elements in architecture or creating visual interest on a blank wall. Scalloping can also create a silhouetted lighting scene.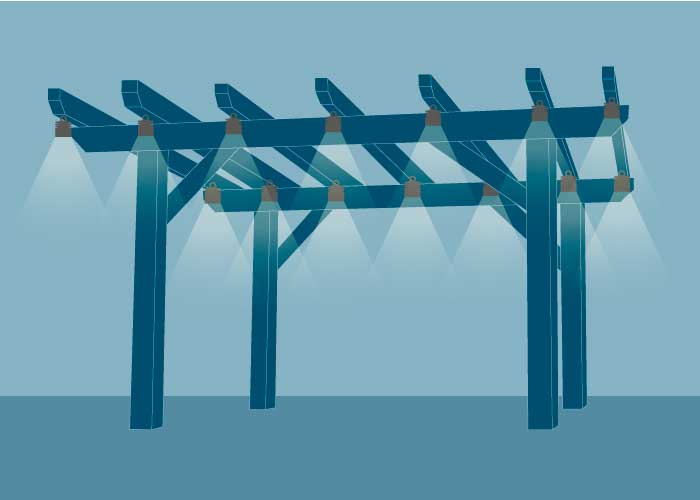 Task Lighting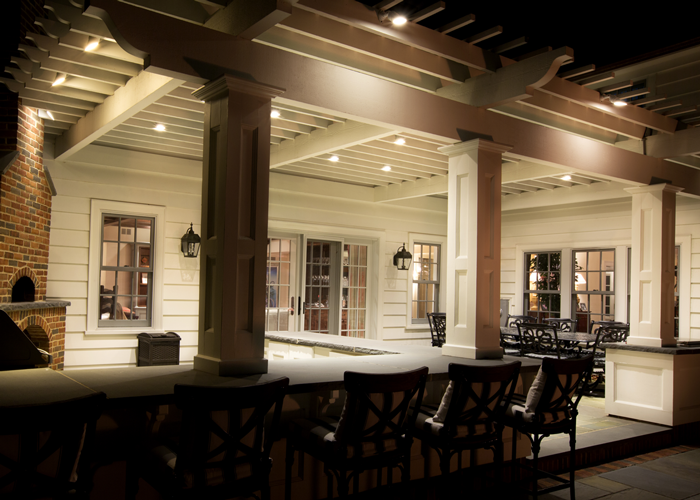 Down lights are a great solution to illuminate areas used for tasks such as cooking, entertaining, reading, or other outdoor activities that require substantial visible light.
Path Lighting
Path lighting is one of the most popular techniques used in landscape lighting. Use path lights to help pedestrians navigate walkways or draw attention to hazards such as grade changes or steps.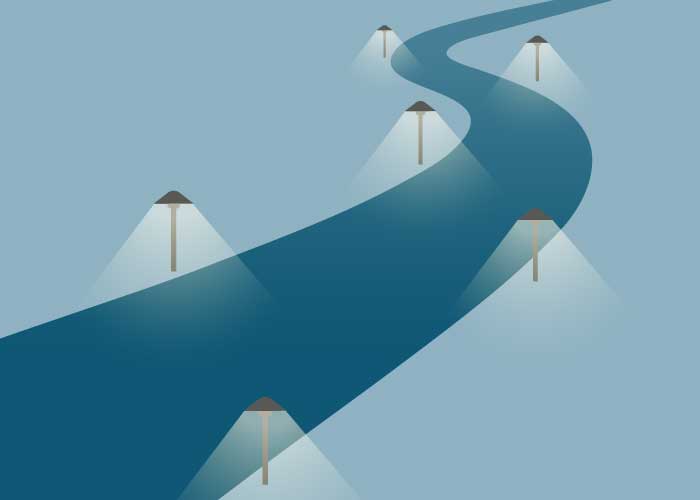 Staggered Path Lights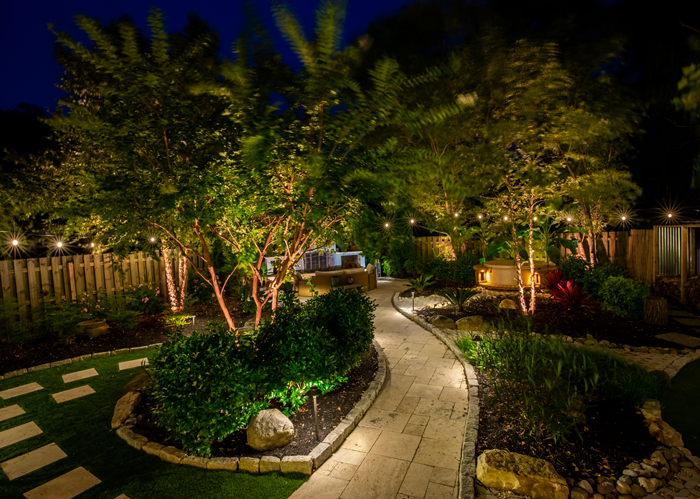 When using path lights to illuminate a walkway, stagger the fixtures from side to side with even spacing between each fixture. This strategy provides an adequate light throw to ensure pedestrian safety as well as visual interest along the path.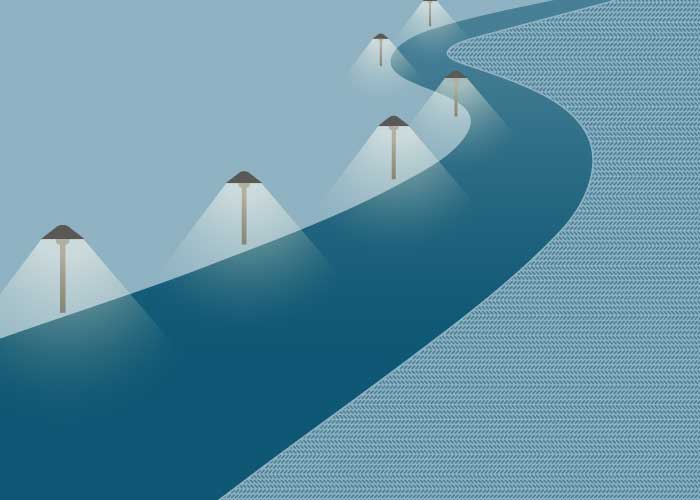 Single-Row Path Lights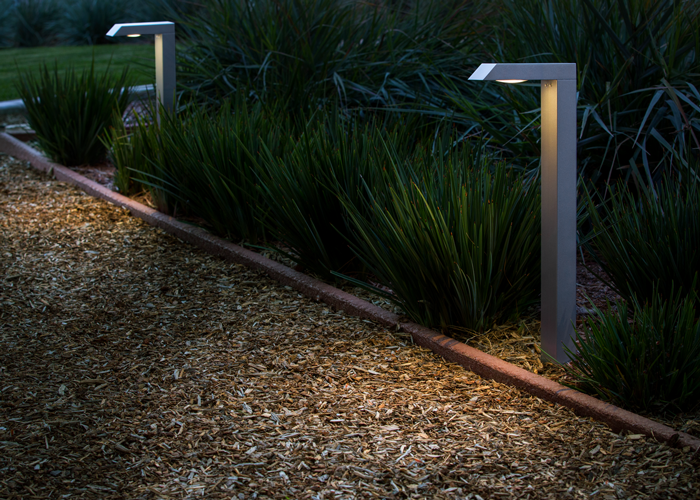 While elegant and effective, path lights can also be a maintenance challenge and trip hazard. One design-friendly way to overcome this challenge is to remove the turf on one side of the path and install a single-sided row of path lights.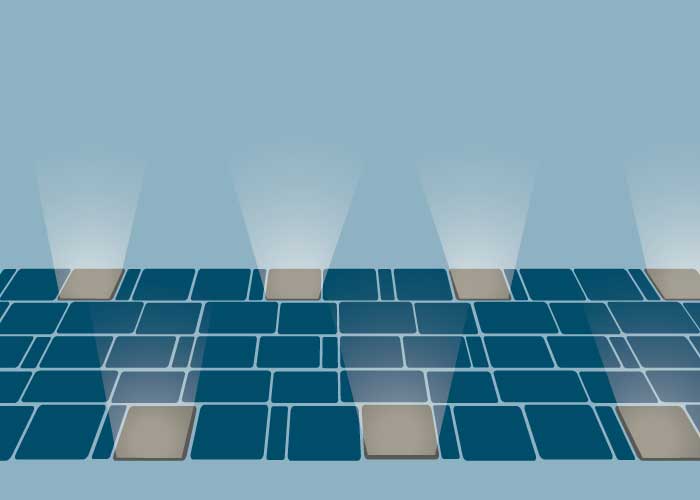 Marker Lighting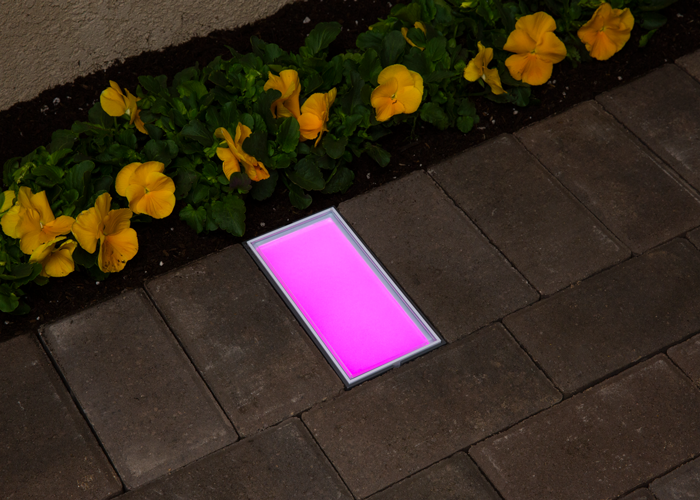 Use marker to add artistic elements to your scene, create interesting patterns, and clearly mark areas that guests should be aware of, like pathways or pools.
Wall Lighting
Wall lights are fixtures that are mounted in or above hardscapes to illuminate outdoor structures. Integrate wall lights into any outdoor lighting design to increase safety and define perimeters within the space.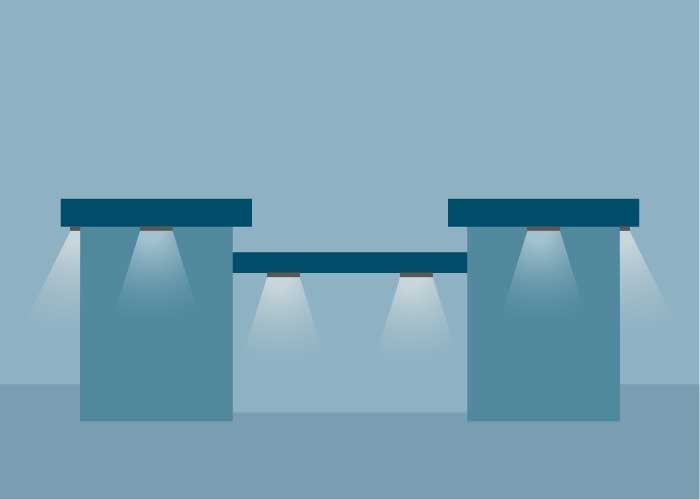 Ledge Lighting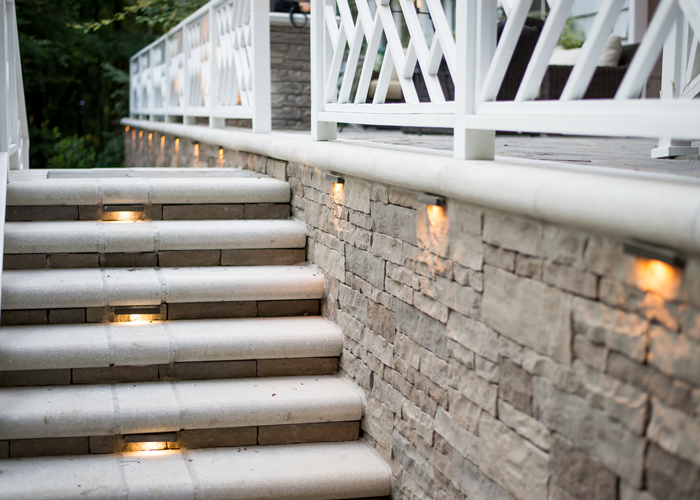 Hardscape elements such as walls, posts, stairs, and fire features are excellent areas for ledge lights because they usually border walking areas. This means you can use them to provide additional safety for users of the space.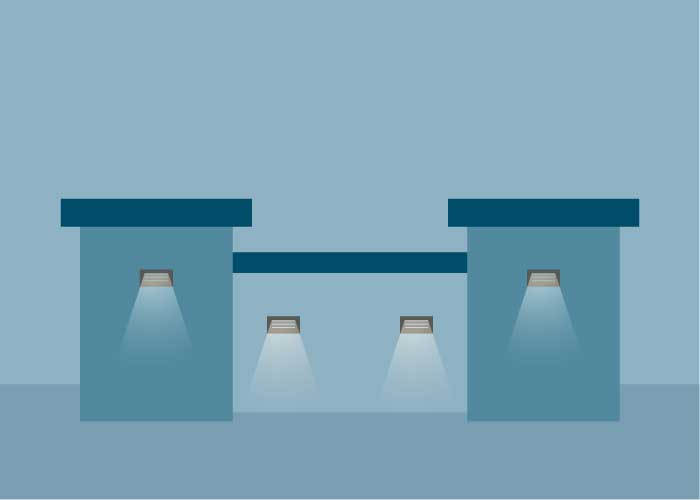 Wall Lighting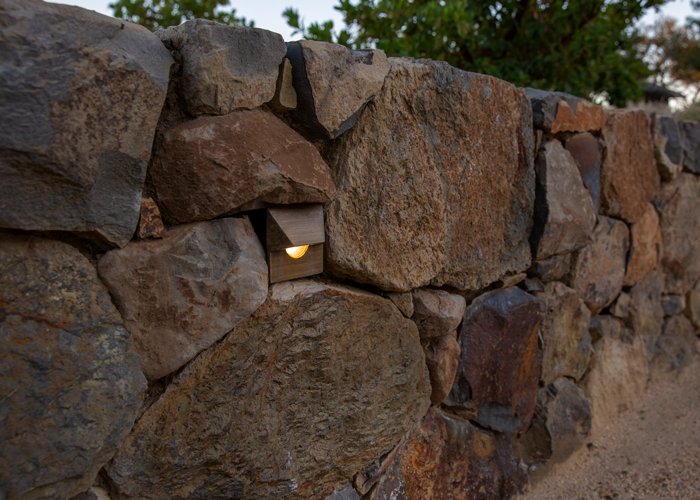 When you want to illuminate a space adjacent to a wall, use wall lights. The wall provides a sturdy mounting location to light the surface below.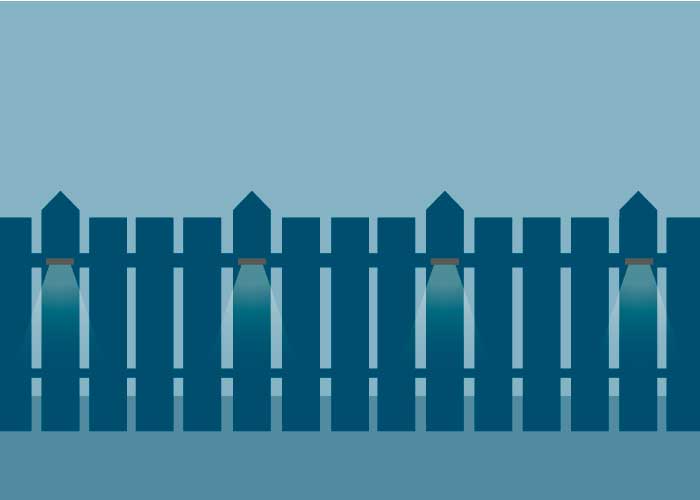 Deck Rails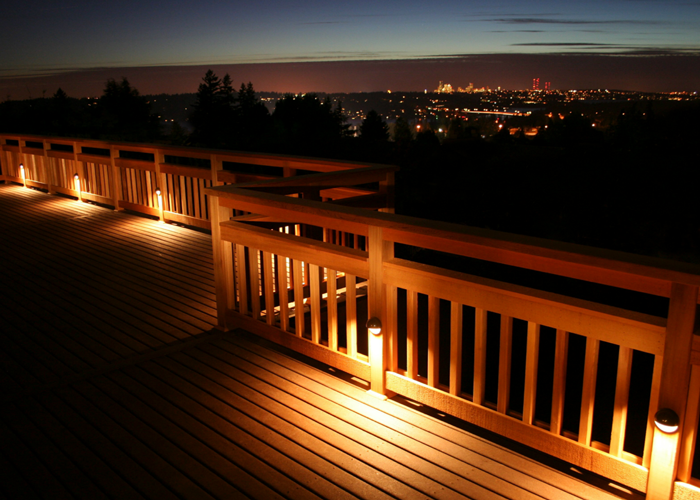 This technique is designed to cast light down from a railing onto the surface of a patio or deck.
Water Features
Illuminating water features with underwater lights is a popular and fun lighting technique. When placing underwater lights, be sure the light source is positioned so viewers don't see it.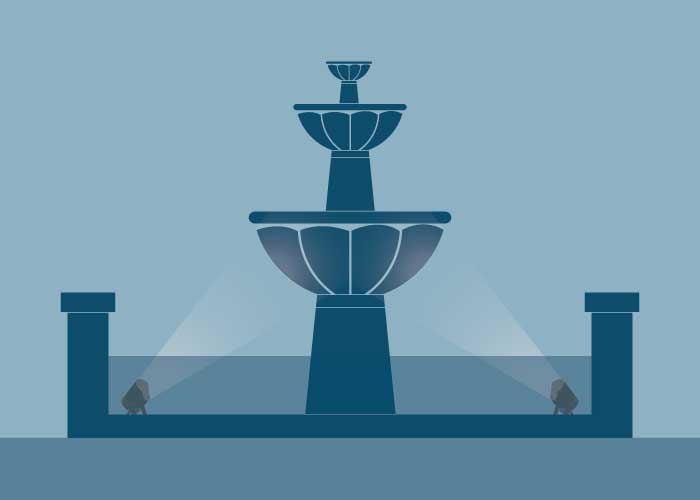 Underwater Lighting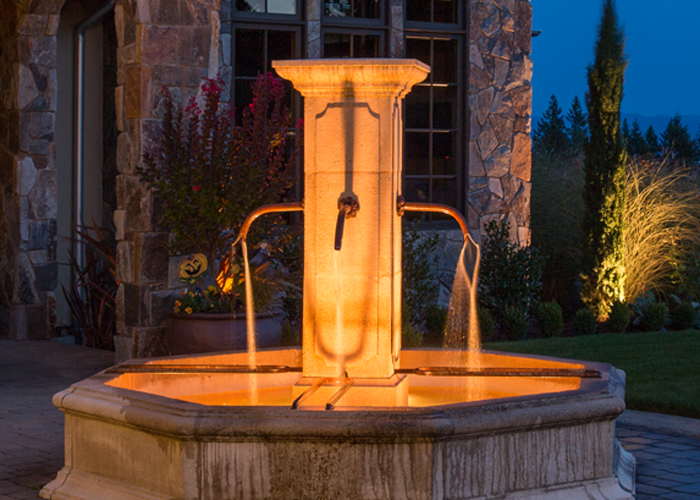 Mounting underwater lights in calm bodies of water creates a magical up lighting effect. Aim the light at underwater walls or features outside the water such as fountain jets or boulders.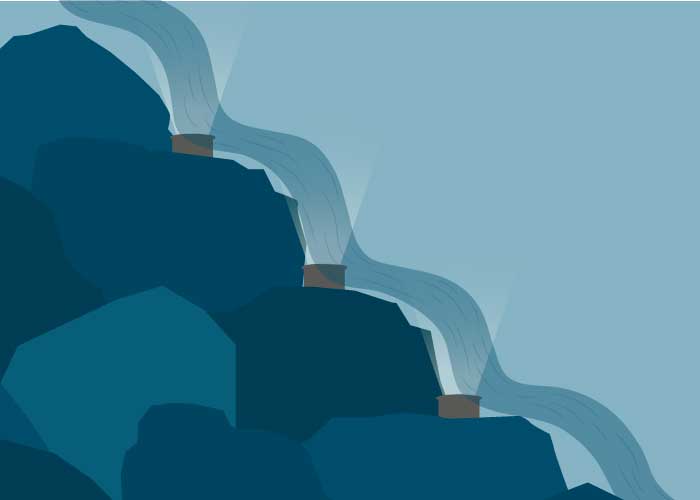 Refractional Lighting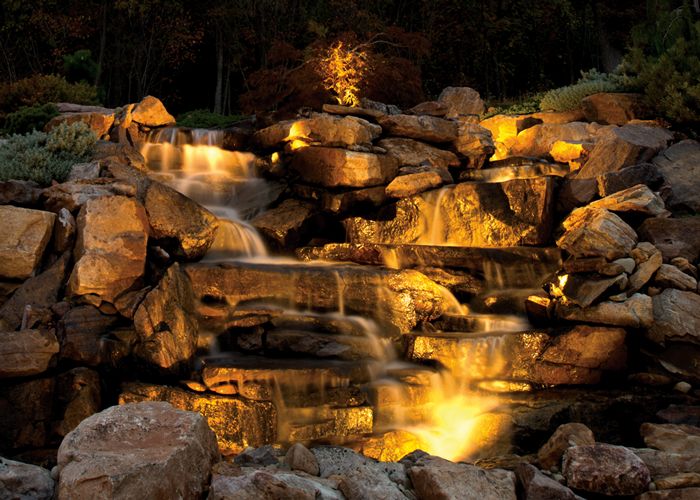 When light shines through fast-moving water, it becomes scattered, creating a dramatic glowing effect. Use this technique on waterfalls, pond jets, fountains, or any turbulent water source.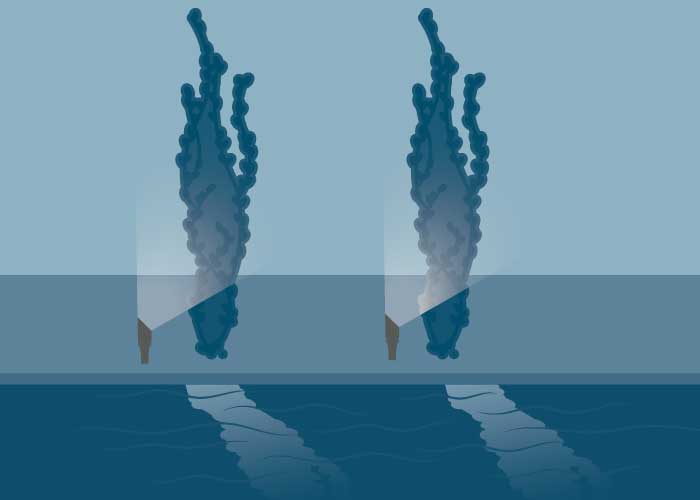 Mirroring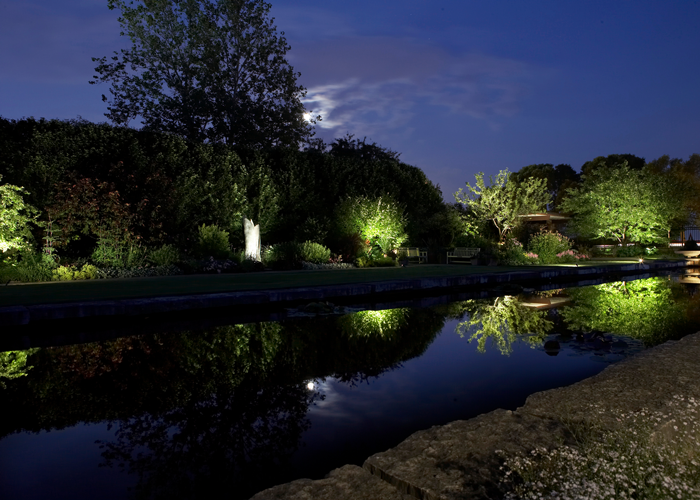 One of the most theatrical lighting techniques used by designers is known as mirroring. This effect is produced by casting light on subjects adjacent to a body of water rather than placing fixtures in the water feature.
Lighting Elevation Changes
For safety reasons, it is always important to illuminate walkways, particularly where there is a change in slope or direction.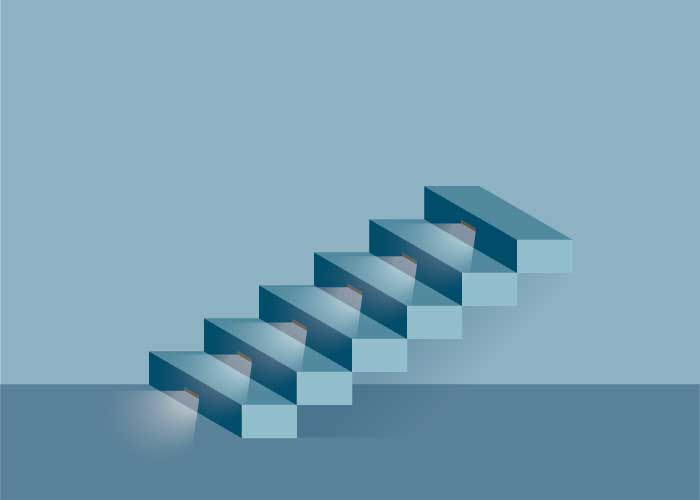 Stairs Steps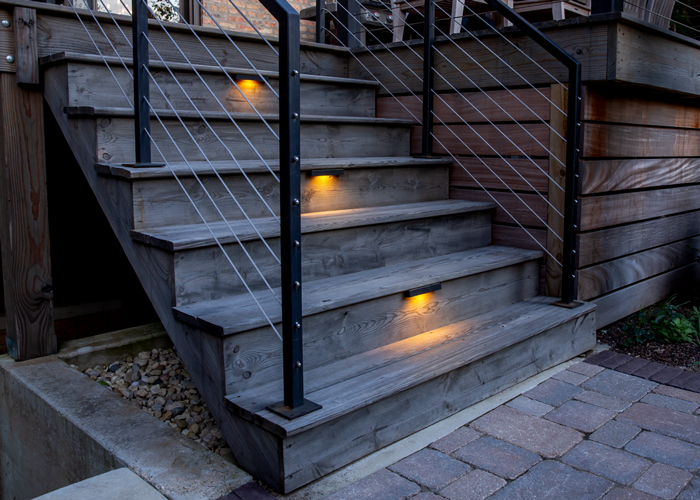 To light stairs for safety, aim for lighting that is uniform and rhythmic. Mount fixtures in repeating patterns, under every tread or every other tread, or on an adjacent wall.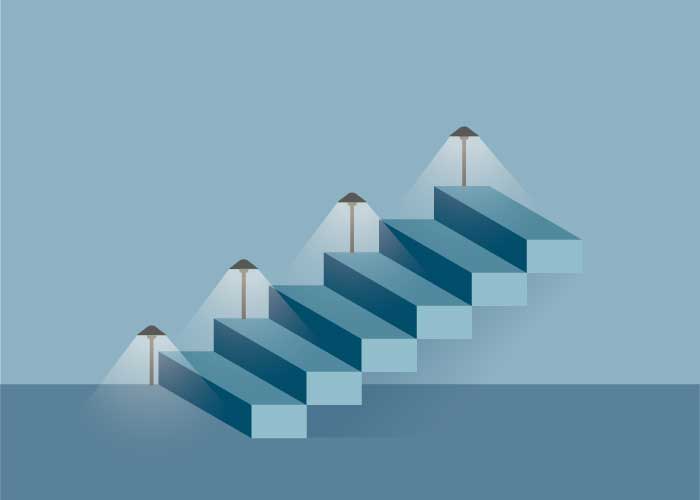 Steps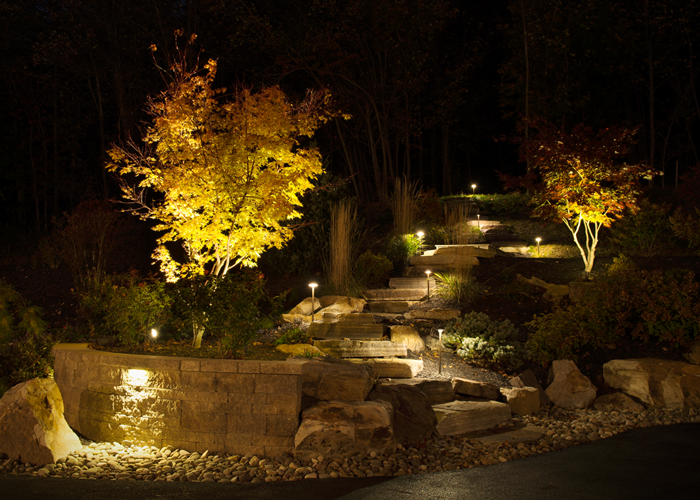 Elevation changes that involve a step or two are often best illuminated with path lights. The light will call out each change in level to safely direct the pedestrian down the path.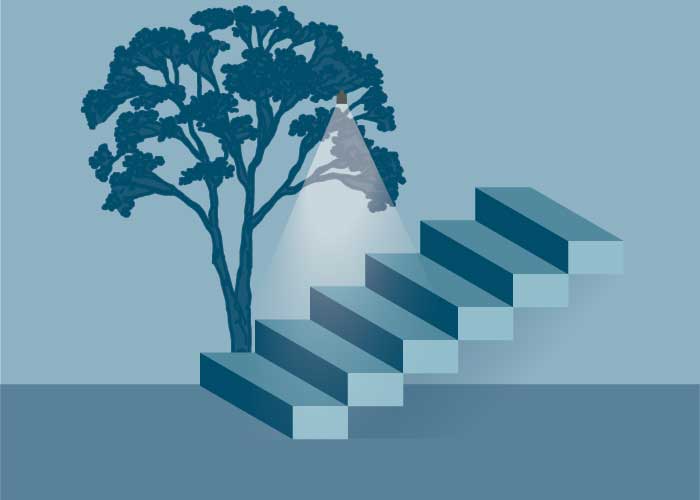 Down Lighting Stairs or Steps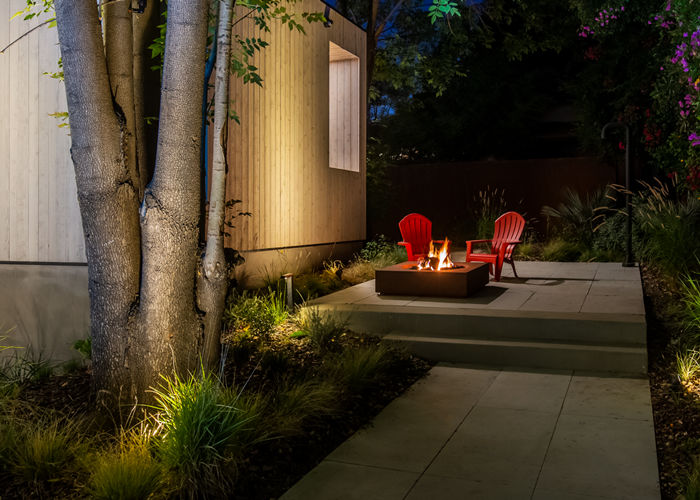 If a tree or structure is located above the steps, you can use it to conceal overhead lighting. As with all down lighting, install an adequate number of fixtures to avoid dark shadows and minimize glare.