FX has provided all construction details in the following formats: (1) Adobe PDF, (2) DWG, and (3) DXF. The Details have been created with two graphic presentations. Type "A" Detail shows the callouts by a legend with numbered bubble callouts, and Type "B" Details show leaders for callouts. DWG Files are created utilizing multiple layers to delineate between the different construction practices. The user can isolate layers to view what is needed. Directions in the DWG file give instructions on how to do this. DXF Files are created for other CAD platforms that cannot read the DWG File Format.
View: Designer | Standard | Power and Control
Designer
Standard
Power and Control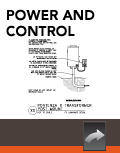 Power and Control
Adobe Reader is required to view and print PDF files.
Download Adobe Reader here.