Friday, October 15, 2021 - 9:04am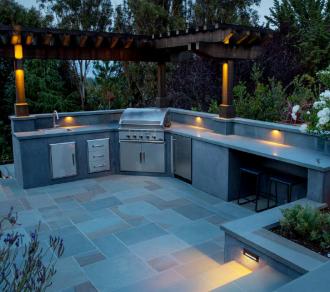 Illuminating modern outdoor living spaces calls for functional and creative lighting solutions. An expertly lit home can appear larger, brighter, and more welcoming. A lighting design that links an interior space with a beautifully lit hardscape makes this possible.
To transform hardscapes into dreamscapes, you need the right tools. It's important to select and install fixtures that use the highest-quality LED technology. FX Luminaire offers a full line of best-in-class solutions. With them, you can create cutting-edge systems for classic and contemporary hardscapes. From outdoor kitchens to entertainment centers, every hardscape becomes more attractive, valuable, and accessible with a lighting system from FX Luminaire.
Get Creative
When it comes to lighting hardscapes, a key goal is to enhance safety and provide a clear sense of direction. Path lights are often the first choice for walkways, but they're not the only solution.
From wall lights to down lights, there are many solutions that remove the threat of tripping hazards. They also make it easier to develop a unique lighting design. One approach is to illuminate architecture with wall washes or diffused in-grade lights. This produces soft, beautiful reflections of the surrounding landscape and sky.
Another option is to change how the fixtures produce light. Swap out beam angle lenses and control intensity with dimmable fixtures. You can create a soft, wide glow or produce dramatic, narrow columns of light across a wall.
This strategy works best on smooth, light-colored surfaces, such as limestone or travertine. A common misconception is that a polished surface will reflect light the best. Yet, in application, these finishes tend to mirror the light, causing the source to become a hot spot on the wall.
The best installs occur when you plan hardscape lighting from the start. For instance, you can illuminate pathways with paver lights. Or you could install recessed wall lights in retaining walls to illuminate a walkway.
Today's modern fixtures also include surface-mounted options and standardized conduit installations. This makes post-construction lighting updates easier to achieve. With proper planning, you can produce innovative installations that maximize beauty and safety.
Get Functional
While the "wow" factor helps homeowners fall in love with your design, the lights must perform as expected. Functional lighting is especially critical when illuminating dining areas and outdoor kitchens.
Hardscapes define where people spend their time and, in turn, influence how they spend it. Without proper lighting after the sun sets, an outdoor dining area becomes too dark to enjoy and an outdoor kitchen becomes a danger zone.
Outdoor lighting lets homeowners move from afternoon cookouts to evening parties with ease. Built-in, surface-mounted barbecue lights offer a professional, elegant look. Pergolas or shade structures provide the perfect place to tuck overhead down lights.
Use even spacing between fixtures during installation for consistent light distribution. You may also want to consider dimmable fixtures. They can provide task lighting at high intensities. At low levels, they create an inviting atmosphere.
Get Cozy
At night, people seek out comfortable, well-lit areas. As the sun sets, use lighting to direct guests toward bench seating around a fireplace. Or create a stunning showcase for focal hardscape elements or water features. With advanced lighting control, it's easy to adjust intensity and color to influence the mood.
Take a warm, homey fireplace, for instance. The focal point is the fire. Yet flames often don't provide enough light to guide people to the adjacent seating areas. Overcome this with bench lighting that features an amber color temperature to match the warm glow of the fire. Guests will then see beyond the fireplace to the cozy seating area.
As technology has advanced, it's become much easier to configure adjustable lighting. Industry-leading Luxor® Technology from FX Luminaire provides limitless freedom and flexibility. With a handy app and total cloud management, it's simple to create stunning hardscape lighting designs.
Luxor Technology lets you create colorful, one-of-a-kind displays. The color-changing LEDs built into FX Luminaire fixtures generate subtle, complementary hues. Use these to highlight focal points or produce vibrant colors for special effects.
Picture a pair of boulders as the centerpiece of a setting or the backdrop for a seating area. You can bring out their warm tones with a soft amber for a textured sandstone look. Or you may opt for a faint blue to mimic cool granite. For special occasions, the light output can overlay color on the boulders. Try red, white, and blue for the Fourth of July or orange and green for Halloween.
Get Going
In any design, there are two important considerations: the amount of usable outdoor space and the amount of time clients spend there. To boost these factors, try blending hardscape construction with landscape lighting.
Even if homeowners have not committed to a lighting system, you may want to install wiring during hardscape construction. This keeps the possibility open for future enhancements. That way, it's easy to add new lights, an outdoor TV, or internet connectivity later without disturbing the hardscape.
With FX Luminaire, you can choose from a full range of lighting solutions. From simple on/off control to dynamic zoning, dimming, and color, you get the advantage of easy installation and simple servicing.
FX Luminaire also offers an array of fixture materials and finish options. Fixtures can be powder-coated to blend in with masonry and woodwork. Or you can select natural metals like brass and copper that will patina over time and become beautiful hardscape accents.
Fixtures from FX Luminaire offer long-term performance to elevate any hardscape. FX Luminaire also provides free online tools, training, and resources to help you create beautiful designs and close sales faster. Check out My Design, a free tool available at fxl.com.