Tuesday, March 27, 2018 - 8:01am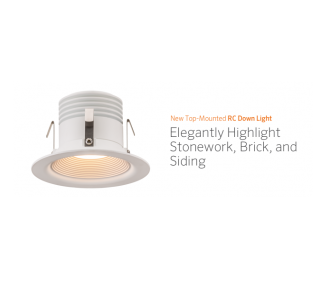 The RC is a cylindrical, top-mounted, recessed fixture for lighting designers and contractors looking to enhance architectural features such as stonework, brick, and siding. When placed in the soffit of an arch, balcony, or eave, it softly grazes the vertical surface below while providing clean downward illumination to expand the space and increase safety for pedestrians.
The RC is easy to service and simple to install. As a member of FX Luminaire's Designer Plus category, the fixture comes in 1, 3, 6, or 9 LED configurations, with a version also available that is compatible with FX Luminaire's flagship Luxor® technology to offer zoning, dimming, and color control capabilities. To enhance longevity and field performance, the die-cast aluminum fixture has two-layer, marine-grade corrosion resistance.
For maximum design flexibility, the fully code-compliant RC offers various outputs and CCTs, and can be configured for line- and low-voltage applications. It features a compact design with minimal styling, and a high-quality finish for peak performance in harsh exterior environments.