Tuesday, June 26, 2018 - 8:04am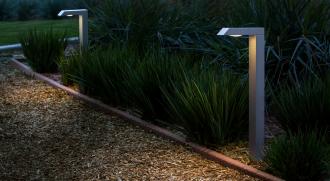 The ultra-modern new M-PL path light from FX Luminaire combines the versatility of die-cast aluminum with minimalist aesthetics to create a one-of-a-kind fixture that resists corrosion and complements a range of contemporary installations.
The M-PL is easy to service, simple to install, and compatible with Luxor® technology for zoning, dimming, and color capabilities. It is a member of the FX Luminaire Designer Plus category. The fixture's downward-shining LED board delivers light efficiently, and fights lumen loss by providing a direct approach to efficacy that counters the untargeted lighting patterns associated with traditional path lights. The low-glare fixture also provides soft transitions and an optimized throw for enhanced pedestrian safety.
For maximum design flexibility, the tamper-resistant M-PL offers various outputs and CCTs. The luminaire features a high-quality finish for peak performance in harsh exterior environments, and can be installed with standard conduit to ensure a straight, sturdy placement with no leaning.