Sleek new FR copper/brass up light blends seamlessly into any setting
Release Date:
Tuesday, April 18, 2017 - 10:57am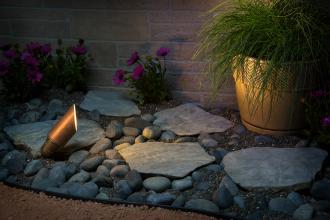 The new FR copper/brass up light brings the elegance and performance of precious metals to FX Luminaire. FR offers longevity, precision, durability, and corrosion resistance, making it a perfect choice for coastal environments. It's easy to install and fits easily into tight spaces, complementing the architecture and landscape in any setting. 
As a close extension of the existing NR fixture, the FR's smaller size ensures up to a 3LED output, with all the color filters, beam angles, and other features associated with FXL integrated LEDs. 
The FR is the smallest integrated LED directional up light offered in copper/brass by FX Luminaire. Designed for small spaces in residential and small-scale commercial markets, the FR offers a unique architectural element to each site. Zoning is standard, with dimming and even color as an option with the Luxor controller.