Wednesday, May 19, 2021 - 7:54am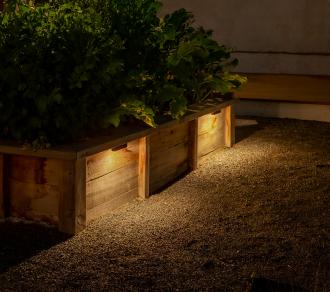 The new LD ledge light helps contractors save time on the jobsite. Ideal for walkways, walls, decks, stairs, counters and more, it features an innovative snap-on lens that makes installation and maintenance a breeze.
"Ledge lights are designed to tuck underneath capstones or ledges, making them notoriously difficult to service," said Sarah Auyeung, Associate Product Manager for FX Luminaire. "With its new snap-on lens feature, the LD ledge light makes installation and maintenance quick and easy. The contractor simply removes the lens, makes the adjustments, and snaps it back into place — no tools required!"
Small Light, Big Benefits
As the smallest ledge light from FX Luminaire, the reliable LD delivers top performance in a compact package.
No tools are needed to change out the lamp, the wire can be installed in either direction, and routine servicing can be done without disturbing the fixture, wire, or hardscape.
Two-layer, marine-grade anodization and powder-coat finish offers double protection against corrosion
The durable die-cast aluminum fixture comes pre-installed with a 20 W G4 LED lamp (for more light output, a 35 W lamp is available)
Silicone-encapsulated COB LEDs increase lumen output, reduce heat, prevent water intrusion, and provide better durability than standard LEDs
Frosted plastic lens prevents hot spots to deliver a soft glow that beautifully illuminates any setting
The LD ledge light is available now.