Tuesday, September 20, 2022 - 10:18am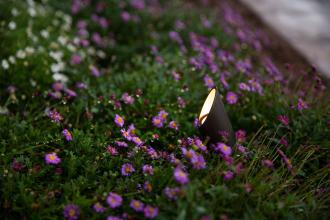 The MP Up Light is now better than before! A longer shroud offers improved glare control, and two preinstalled MR-11 Eco LED Lamp options offer a choice between a warm (2,700K) or soft (3,000K) look for greater design flexibility.
"When illuminating the outdoors, lighting designers want viewers to see the creative effects of light on specific landscape elements, be it a tree, a wall, or a column," said Sarah Auyeung, Product Manager for FX Luminaire. "In these cases, the longer shroud provides more glare control so the focus stays on the landscape, not the fixture."
The compact design of the MP allows it to stay hidden among plants, making it an excellent choice for gardens and other small spaces. Along with its new features, the MP retains all the best aspects that made the original version a popular option.
Die-cast aluminum construction ensures a strong, lightweight fixture
Superior outdoor TGIC powder-coat finish options maximize corrosion protection and offer multiple style options
Built-in ProAim® Technology makes it easy to precisely position the light
Phase dimmable capability provides maximum light control
The redesigned MP Up Light is available now.