Tuesday, August 21, 2018 - 9:34am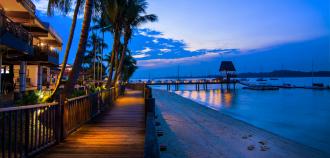 New wildlife-friendly lighting fixtures from FX Luminaire have outputs that conform to the standards set by the Florida Fish and Wildlife Conservation Commission.
This diverse product line gives our customers more options for wildlife-sensitive and restricted lighting installation zones, with the same commitment to quality, sustainability, and innovation that they expect from FX Luminaire.
For maximum design flexibility, there are many available choices. Fully compliant, certified fixtures include the NL, PS, MO, JS, CA, DM, CV, and CB. Non-certified fixtures with wildlife-friendly options include the CC, FR, PB, LP, LL, and FC.
Each fixture emits soft amber light within the established safe zone for wildlife (585–595 nm), allowing turtles and other animals to migrate without being disrupted.
All fixtures remain compatible with Luxor® technology and use a chipset similar to current FX Luminaire 3LED boards. In addition, existing products can be easily retrofitted with this technology in the field.