Tuesday, February 28, 2023 - 3:50pm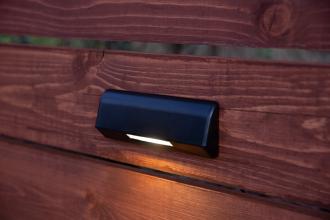 Recessed wall and step lights can be a nightmare to install due to hardscape construction and intensive retrofit processes.
The new SF Surface-Mounted Wall Light simplifies installation and saves time while offering a modern, streamlined profile. Its mounting system includes guidelines for proper fixture positioning with no visible hardware.
Angled Optics for Modern Applications
Available with 1 LED or ZDC configurations, the fixture's integrated LEDs and specialized optics are designed to project light at a 40° angle, creating beautiful wall- and ground-washing effects.
With only 1.0" (25 mm) of exposed depth and an overall height of 2.5" (64 mm), the SF accommodates tight spaces and modern step risers. Fully potted with an IP66/IP67 rating, this compact fixture is ideal for low-profile applications.
"The surface-mount design of our new SF fixture allows for a less invasive installation, which minimizes time and labor. With a contemporary look that fits today's applications, its optics project the light out at a 40° angle, creating a softer wash of light rather than a hot spot at the base of the fixture."
–Sarah Auyeung, Product Manager
The SF Surface-Mounted Wall Light is available now.