Tuesday, December 4, 2018 - 7:44am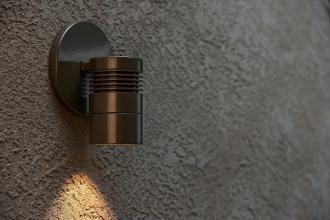 The new SD wall light has a simple yet elegant cylindrical drum design that complements a range of classic and contemporary applications while providing maximum optical control for downward illumination.
The SD expands our offering in this fixture category, giving you more choices for your lighting designs. Install the SD in entryways, outdoor meeting spaces, seating areas, and other applications where there is no available ceiling or overhead surface. For maximum comfort, the fixture's extended glare shield prevents light from shining into the eyes of passersby.
The fixture's wall-mounted bracket is easy to install with a standard junction box, and the back plate efficiently seals and masks the installation opening.
Made of die-cast aluminum, the SD is offered in 3, 6, or 9LED. A ZDC option is also available for unrivaled zoning, dimming, and color applications when used with the Luxor® controller. The fixture is a member of the Designer Plus category.