Wednesday, April 24, 2019 - 7:45am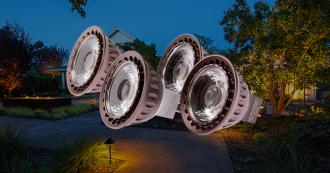 The MR-16 Eco LED lamp family from FX Luminaire provides a high-quality, economical choice for lighting professionals working with limited budgets. To simplify product selection, the lamps are available with two outputs, two beam angles, and one color temperature option.
To prolong LED life in the field, MR-16 Eco lamps have sturdy, lightweight aluminum housing engineered for optimal heat management. Additionally, the reliable snap-ring design ensures optical components remain secure during handling. When used with a Luxor® Low-Voltage Cube lighting controller, the lamps have zoning and dimming capabilities.

MR-16 Eco LED lamps are perfect for FX Luminaire Standard Series MR-16 fixtures  and retrofit jobs. Unlike standard MR-16 and ZD MR-16 lamps, MR-16 Eco lamps are not available pre-installed in FX Luminaire fixtures. Every lamp has a three-year warranty and a 30,000-hour field life.