Tuesday, April 24, 2018 - 9:46am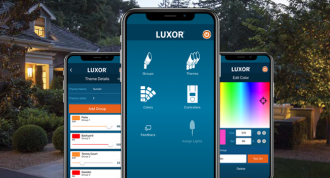 FX Luminaire has updated the Luxor app to improve user experience, simplify navigation, and remove pain points during theme and color creation. The app has the following helpful new features (with more on the way!):
Home screen
The helpful new dashboard (home screen) eliminates confusion, improves navigation, and enhances user experience.
Easy theme creation
The new "Create Theme" feature allows users to create a theme while in the group screen. All group names, intensities, and colors will seamlessly transition over into the new theme. In addition, the new copy/paste ability simplifies the creation of similar themes. For example, if a user has a Christmas theme and they want to create a similar Halloween theme, they can simply copy the theme and choose new colors.
Navigation/UI
With the new app, all options are available directly from the home screen or navigation bar. The navigation bar allows users to switch functions without going back to the home screen.
Feedback button
This feature allows users to provide feedback directly to our Marketing and Software Development teams. This will give customers a direct voice.
These enhancements improve freedom and flexibility during system setup and keep FX Luminaire at the forefront of lighting technology.
The new app is available now on Google Play and the Apple App Store.
Apple and the Apple logo are trademarks of Apple Inc., registered in the U.S. and other countries. App Store is a service mark of Apple Inc., registered in the U.S. and other countries. Google, the Google logo, and Google Play are trademarks of Google LLC.