Wednesday, November 29, 2017 - 9:05am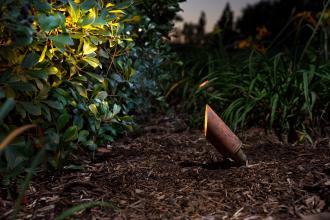 The beautifully redesigned LR and new MR copper/brass up lights are elegant additions to lighting projects in coastal environments.
The LR has long been a popular fixture in coastal environments because it resists the unsightly corrosion often seen in traditional aluminum fixtures. Now, the LR's sleek, minimalist redesign ensures the effect of the fixture becomes the focus, rather than the fixture itself.
The LR's sister fixture — the smaller MR — brings the elegance, performance, and corrosion resistance of precious metals to another category of fixtures, ensuring seamless continuity across any project site. The similar design of the fixtures means they are equally at home among high-end and standard projects.
Compatible with zoning and dimming functionality using Luxor® technology, the LR and MR up lights provide almost unlimited capacity to ensure beautiful lighting designs in an array of settings.