Wednesday, September 7, 2022 - 8:31am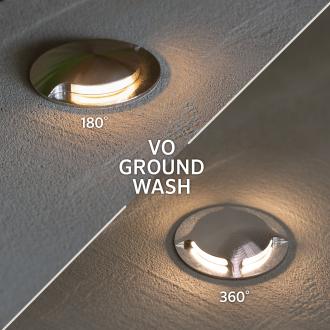 Lighting contractors seeking a small marker light with a clean look and easy installation have a new option. FX Luminaire is proud to introduce the newest member of the premium VO In-Grade/Wall Light family, now available with two Ground Wash (GW) options.
This compact fixture is the perfect size for lighting decks and concrete hardscapes. Featuring watertight, stainless steel construction, the IP68-rated fixture delivers exceptional performance in all weather and environmental conditions.
Two Beam Spread Options
Available in 180° and 360° versions, the GW model elegantly illuminates hardscapes for safety, wayfinding, and perimeter lighting.
"The custom optics and clean faceplate design deliver light across the installation surface horizontally to provide the ideal amount of light with a polished, professional look," said Sarah Auyeung, Product Manager.
Proven Performance
The new GW configuration joins the popular Spot (ST) and Round (RD) faceplate options. All models offer several benefits that increase design flexibility and ensure long-term performance:
Premium stainless steel body is durable, rust-proof, and easy to clean
Integrated ZD 1 LED board provides zoning and dimming capabilities
Special mounting kit is available to simplify installation in concrete applications
The newest VO-GW in-Grade/Wall Light is available now. Learn more.