Friday, September 22, 2023 - 9:53pm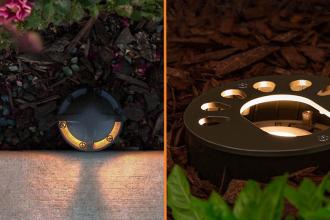 We're expanding the faceplate offerings for our Standard Series in-grades! With the addition of these new products, lighting professionals now have the flexibility to choose from a variety of cost-effective options that ensure durability, longevity, and peak performance in hardscape applications.
New Ground-Washing Faceplates for FC In-Grade
The FC In-Grade now offers four additional faceplates to meet the rising demand for ground-washing fixtures. With a wide array of faceplate, finish, and lamp options, this cost-effective product is an ideal fit for any project.
Die-cast brass and composite construction offers superior durability
MR-16 lamp and lens accessory compatible with GU5.3 base
Phase dimmable
10 to 15 VAC/VDC
CF Well Light With New Aluminum Faceplate Option
The CF Well Light's new powder-coated, die-cast aluminum faceplate offers greater light output, a more secure installation, and superior protection against weather conditions for long-lasting performance. The composite, grid-style faceplate is still available.
Flat (0°) or angled (20°) installation options provide increased design flexibility
Built-in, adjustable lamp cradle that allows beam direction and light source depth control
Signature keyhole grate pattern option for greater uniformity and glare control
Grid pattern option for debris prevention
PAR-36 lamp compatible with GU10 base
Phase dimmable
10 to 15 VAC/VDC
Our newest faceplate options are not only easy to install but also provide more durable construction, improved design flexibility, and increased fixture longevity in any environment."
–Anthony Italia, Senior Product Manager
The new FC In-Grade and CF Well Light faceplate options are available now.