Monday, June 12, 2023 - 8:00am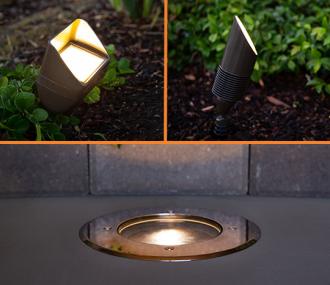 Finding simple solution for lighting tall trees or structures can be a challenge. Introducing the new Exa Collection from FX Luminaire!
This high-output, low-voltage solution combines light outputs up to 1,200 lumens with top-tier integrated LED technology.
This fixture provides an output of 1,000 lumens with three precision beam angle options. Robust mechanical seals and an IP66/IP67 rating ensure weathertight performance while a patent-pending adjustable body allows mounting in multiple directions.
Featuring a 1,000-lumen output plus IP68 and drive-over ratings, this fixture is built to perform. Its fully recessed, stainless steel design results in a clean, easy installation. Three beam angle options along with internal rotation and tilt adjustability provide total design flexibility.
At 1,200 lumens, this fixture offers the highest output in the Exa Collection. Rated at IP66/IP67, this powerful light features a 135° ultra-wide beam spread with a patent-pending mechanical design for mounting in any direction.
All three fixtures come with Warm (2,700K) and Soft (3,000K) color temperature options.The ZDC configuration of these products offers twice the output of our current ZDC offering while providing the familiar convenience, flexibility, and control of industry-leading Luxor.
With our new Exa Collection, we're pushing the limits of low-voltage white lighting up to 1,200 lumens. At the same time, we're doubling the output of our ZDC (zoning, dimming, and RGBW color) option while providing customers with the familiar convenience, flexibility, and control of Luxor Technology. It's the perfect combination of high-output performance and low-voltage simplicity.
–Anthony Italia, Product Manager
The new Exa fixtures are available now.