Tuesday, July 13, 2021 - 1:29pm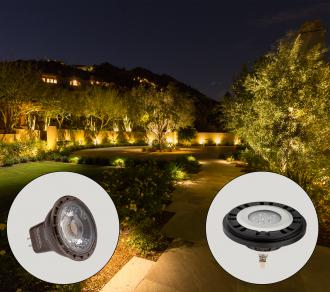 We've expanded our economy lamp line to give contractors more lighting options! The new FX Luminaire MR-11 Eco and PAR-36 Eco LED Lamps provide high-quality light with optimal energy efficiency, lifespan, and durability.
"Different applications call for different types of lighting," said James Cervantes, Product Manager for FX Luminaire. "Building out our Eco lamp family gives our customers more options for their lighting designs."
The perfect choice for standard fixture installations or retrofits, both lamps come with these built-in features:
Durable, lightweight aluminum housing withstands any weather condition
Two color temperature options offer a warm (2,700K) or soft (3,000K) look
Compatibility with Luxor® Low-Voltage CUBE for zoning and dimming capabilities
MR-11 Eco Lamp
The versatile MR-11 Eco Lamp offers reliable performance in a small package. Featuring a 20 W output with 35° beam angle for ample illumination, it comes preinstalled in MP Up Light fixtures.
PAR-36 Eco Lamp
The powerful PAR-36 Eco lamp is perfect for applications that require a high output. Available in two intensities, it delivers up to 850 lumens and comes preinstalled in CF Well Light fixtures. Choose a 35° (Flood) or 60° (Wide Flood) beam angle for greater flexibility.