Monday, April 9, 2018 - 4:45pm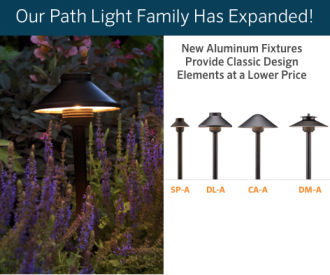 FX Luminaire has added three new fixtures to our path light family! The DL-A, DM-A, and CA-A path lights give contractors more choices to grow their businesses by allowing them to present additional FX Luminaire solutions to clients with modest budgets.
These products are extensions of the popular DL, DM, and CA fixtures, but made with aluminum rather than copper/brass. Fitting into the Standard Plus category, the new fixtures lower the entry-level price for FX Luminaire path lights while providing the same commitment to quality as their higher priced counterparts. With these fixtures, both you and your customers gain additional options to grow your businesses. These options will also help you secure more customers in the FX Luminaire camp, where you can boost sales by engaging them through upselling.
The new fixtures are manufactured with a G4 bi-pin lamp base, and they are available with nine powder coat finish options to offer various solutions for environmental and/or customer needs. They offer zoning and dimming control capabilities with the addition of a Luxor® Cube, and they include a 10' (3 m) lead to simplify installation.