Thursday, September 14, 2017 - 11:57am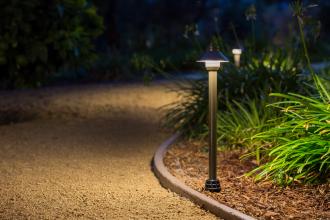 FX Luminaire is pleased to announce the release of our new SP-A path light, which provides an economical solution for budget-conscious clients.
Inspired by the beauty, simplicity, and timeless design of the popular SP copper-and-brass path light, FX Luminaire has developed a sister fixture made of aluminum — aptly named the SP-A — for clients who desire the look and functionality of the SP, but who require a lower price.
Providing a full value-line lighting system allows contractors to expand their businesses by pursuing a more diverse range of clientele. The price point of the SP-A, combined with the RS-LED up light and upcoming low-wattage EX transformer, allows new contractors to enter the lighting market with a low-cost, system-level solution. It also encourages existing contractors to present an FX solution when budget becomes an issue.
Like its predecessor, the SP-A is designed for minimalist themes or compact spaces, where larger path lights just won't work. Because the beam spread of the SP-A provides maximum projection with minimum glare, this graceful fixture is equally at home among lush perennial borders and sparse succulent themes.