Monday, April 13, 2020 - 11:28am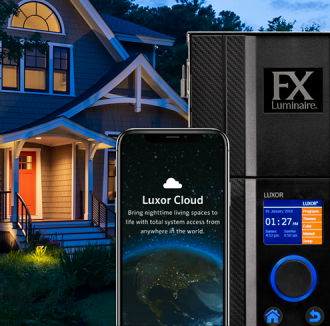 With Luxor Cloud management, it's easier than ever before to bring nighttime living spaces to life. Cloud connection eliminates local network limitations to streamline control in the field and enable remote site management from anywhere in the world via an internet connection.
Contractors and installers can configure Luxor lighting systems on the go to simplify routine maintenance and setup, including theme design, program creation, and color selections. Distance requirements when assigning fixtures with the LAM are eliminated.
This saves time and money by eliminating costly site visits. Homeowners and other users gain total system access when they are off-site, providing additional convenience and flexibility.
To convert to cloud-based control, users simply open their Luxor app to update firmware when prompted and then opt in to the Luxor Cloud from the settings menu. All features remain the same. First-generation controllers will need new facepacks to enable cloud control.
Luxor remains the most advanced and flexible low-voltage lighting control system on the market. In addition to incorporating zoning, dimming, and color into a single controller, Luxor provides the ability to create up to 40 distinct themes, and comes preset with calendar-based programming, timed sunrise and sunset offsets, and dual 15V outputs.