Tuesday, March 13, 2018 - 5:00am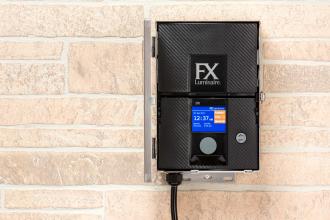 The DX transformer is an easy-to-program, low-voltage lighting transformer that brings customers the convenience of all-in-one functionality. It's simple to operate, and it's the only digital facepack-controlled transformer with astronomical timing and event-based programming capabilities pre-installed. This means there is no need for end users to buy plug-in accessories such as timers and photocells.
With the DX, customers with intermediate on/off lighting control needs have a reliable, high-quality solution. The sleek, contemporary DX features a clean texture that mimics carbon fiber, and comes with an easy-to-read, full-color LCD display that makes installation and configuration a breeze. The optional add-on 9V battery adapter allows for pre-installation programming, saving contractors time at the project site.
The DX provides 150- or 300-watt capacities with multi-tap outputs, and it is available in powder-coated galvanized steel and stainless-steel options. Capabilities include manual operation, the capacity to create scheduled programs, and the ability to configure astronomical timing for locations in the United States, Canada, and Mexico. For end user needs or added convenience during installation, the DX display can be configured in English, Spanish, and French.
For more advanced technology and control capabilities such as zoning, dimming, and color, check out our flagship Luxor® controller.