Thursday, July 29, 2021 - 2:54pm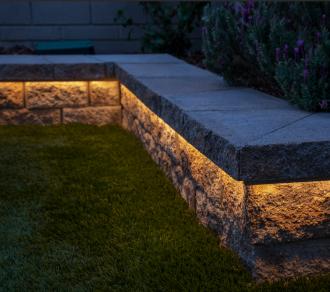 Strip lighting can add eye-catching effects to outdoor living spaces, but it's a major pain to install. Completing a strip lighting project using the traditional method requires the separate purchase of numerous accessories, and installation can involve up to 20 complicated steps.
Not anymore! New SRP strip lighting makes installation so quick and easy, contractors will have it up and running in three simple steps: Just insert the LED spacer, slide the splice connector into the strip plate, and snap the connector clip in place. That's it!
"Many lighting contractors and designers find installing strip lights difficult and time-consuming," said James Cervantes, Product Manager for FX Luminaire. "Innovative SRP strip lights include all the accessories needed to make splice connections and terminations, so installation is quick and easy."
Everything Is Included
Each SRP strip light comes in 10' (3.1 m) or 40' (12.2 m) lengths with 2" (51 mm) cutmarks for precision customization. A preinstalled 10' (3 m) power feed, splice connectors, end caps, and all necessary accessories are included too. The unique splice connector design also eliminates the need for heatshrink or adhesive.
What's more, the specially designed silicone body delivers soft, even lighting without hot spots — no diffusers needed! SRP strip lights are ideal for illuminating stair ledges, outdoor patios, hardscape elements, and more, making them the perfect way for growing any lighting business. Here's why:
Extruded silicone body reduces hot spots, produces soft light distribution, and protects against harsh environments

Two color temperature options offer a warm (2,700K) or soft (3,000K) look

Compatibility with Luxor® Low-Voltage CUBE lets contractors add zoning and dimming capabilities

AC power allows use with any low-voltage lighting transformer

A high IP67 rating ensures dust-proof and water-resistant performance

Optional aluminum channel flush mount simplifies installation on hardscape and under ledges