Wednesday, December 6, 2017 - 7:00am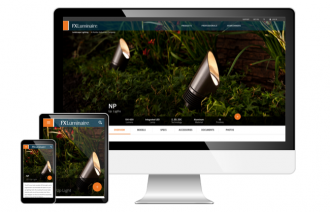 Access Tools, Features, and Information to Help Your Business Grow
FX Luminaire's all-new mobile-friendly website is here! Packed with valuable features, including an interactive spec builder, product filtering options, an inspirational photo library, and the ability to export and share products, the new site makes specifying, choosing, and designing with FX Luminaire easier than ever.
Mobile Friendly
Our new site was specifically designed to be mobile friendly to accommodate busy professionals who need access anywhere, anytime. Compatible with any device, the site provides the flexibility for on-the-go access to the tools and features you need to grow your business.
My List
Thanks to the handy new My List feature, you can specify fixtures, accessories, or transformers of your choice and then add those products to a running list. With My List, generating part numbers and sending them to distributors for ordering is quick, easy, and convenient.
Inspiration Library
In our new photo library, you can view FX Luminaire installations to get inspiration for upcoming projects. Helpful for contractors and lighting designers, the library highlights a range of applications using Luxor® technology and FX Luminaire fixtures, from architectural enhancements to landscape accents.
Accessories
With so many accessories to choose from, it can be hard to remember what goes with what. From filters and mounts to risers and lamps, we've got you covered, so you don't have to spend extra time thumbing through a product catalog.
We value your partnership with us. That's why we continually strive to develop tools to help your business grow. The new FX Luminaire site will help you save time and money, and make the most of your customer experience.