FX Luminaire Introduces the MR-16 LED Lamp
Release Date:
Tuesday, April 12, 2016 - 12:08pm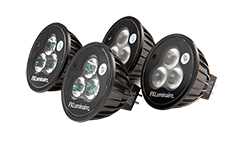 Body:
FX Luminaire announces the release of the new MR-16, a convenient high-quality drop-in LED lamp that converts incandescent fixtures to energy-efficient LED fixtures.
"The MR-16 was developed for retrofit applications when the homeowner wants to keep their current incandescent light fixtures, but wants to have the energy savings of LED lamps," said Ryan Williams, FX Luminaire Product Manager.
The MR-16 is compatible with any brand of low voltage fixture that accepts an GU5.3 base. It is offered in two intensities: 4W and 5W (20W and 35W halogen equivalents, respectively), four beam angle options: 10, 25, 35, 60, and two color temperature options: 2700K, 3900K. The FX Luminaire MR-16 is available now at Hunter distributors.