Monday, December 7, 2015 - 2:01pm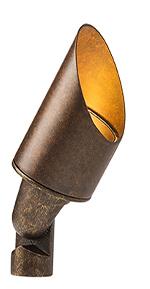 Introducing the NR, a copper version of the popular NP up light, available in 1, 3, 6, or 9 LED. The NR matches other FX Luminaire copper fixtures for a cohesive look, and its durable materials make it the perfect choice for coastal areas and other harsh environments. Learn more about the NR.
Plus 5 other great new products:
A Gutter Mount Bracket for mounting accent lights at the roof deck. The brackets allows for easy wiring in the gutter without drilling into the roof deck and the ½-14 NPSM threads are compatible with all FX accent lights.
The PS Hanging Bracket which converts the popular PS surface-mount down light into a pendulum light. With 9 LED capability, the PS is perfect for outdoor seating areas and high ceilings and is compatible with the Luxor ZDC controller.
The PL and TM Incandescent Fixtures. New G4 socket version accepts incandescent and LED replacement lamps.
The MD Straight-Cut Shroud a 90-degree cut shroud option for the MD down light, hiding more glare and creating a more pleasant experience.