Wednesday, November 7, 2018 - 3:36pm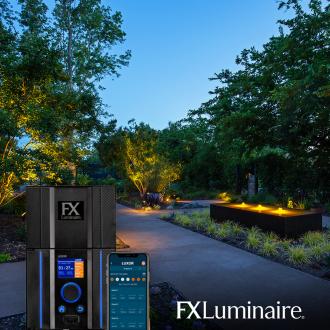 The all-new Luxor® controller combines power, performance, and premium appeal into one next-generation lighting control device that represents the future of lighting design.
Luxor is the most advanced and flexible low-voltage landscape lighting controller on the market. In addition to incorporating zoning, dimming, and color into a single controller, Luxor can now create up to 40 distinct themes, and comes preset with convenient calendar-based programming, timed sunrise and sunset offsets, and dual 15V outputs.
The new Luxor app provides the ability to set schedules directly from a smartphone, eliminating the need to interact directly with the controller facepack to make changes. Optional wireless control is available with the use of the add-on Wi-Fi module or pre-installed LAN module.
Luxor remains FX Luminaire's premium lighting control option. Luxor is compatible with Luxor Satellites, Cubes, and ZD MR-16 LED lamps. The addition of these accessories transforms Luxor into a complete outdoor living space control system.
Leading smart home systems such as Crestron, Lutron, Control4, and Savant easily integrate with the Luxor controller. Compatibility with these smart home systems provides homeowners maximum control and convenience by allowing them to combine their indoor control system with their outdoor lighting.