Tuesday, March 15, 2022 - 9:34am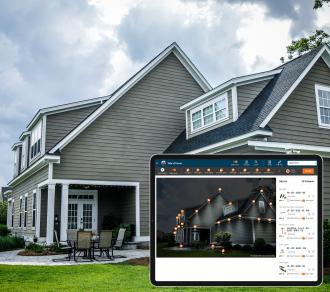 Getting property access at night to conduct an in-person lighting demo can be challenging. Now you can create a nighttime lighting demo from anywhere with the new Night Mode feature from My Design!
 
The Easy Way to Light the Night
Night Mode is a simple editing tool that lets you design renderings with illustrative night lighting. It shows essential details like direction, intensity, and more.

Simply snap a picture of any landscape, then turn on Night Mode to reveal the stunning effects of landscape lighting in your design. It's easy to create a professional proposal in just a few clicks:
Turn on Night Mode: Transform your landscape design with a single click.
Edit Light: Modify the lighting aspects applied to a fixture, including beam adjustment, beam spread, and beam intensity.
Toggle Light On/Off: Select one or more fixtures to easily add or remove lighting effects.
Navigate Your Design: Use Zoom to get a closer look at your lighting design along with Navigate to quickly pan across the screen.
Additional Features: Stay in control with functions like Darkness plus multiple selection tools and icon sizes.
"We focused on speed to design and simplicity with My Design andvNight Mode. Using simple tools, professionals of all technical skill levels can present illustrative lighting concepts to their customers in
a fraction of the time compared to complex and expensive software."
–Scott Allison, Web Development Manager
Since My Design requires no technical expertise, it's simple enough for beginners yet powerful enough for experts. Using any device in the cloud, you can access Night Mode to impress your customers and grow your business. Night Mode is available now.