Tuesday, April 9, 2019 - 11:09am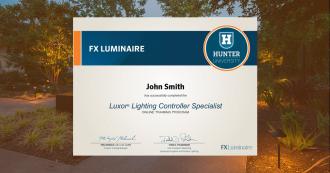 We are pleased to announce the launch of our new Luxor Lighting Controller Specialist Program. The training is offered through Hunter University, our comprehensive, free online training portal for irrigation and lighting professionals.
At FX Luminaire, we are constantly seeking ways to help our customers grow their businesses through education and training. The goal of the program is to equip contractors and lighting designers with useful knowledge about the industry-leading features and benefits of next-generation Luxor technology. The videos provide a detailed overview of controller and Wi-Fi setup, group assignment, color palette and theme creation, programming, scheduling, and more.
After successfully completing the nine video-training courses with a score of 80% or better, participants will earn certificates designating them as Luxor technology specialists.