Thursday, February 10, 2022 - 11:18am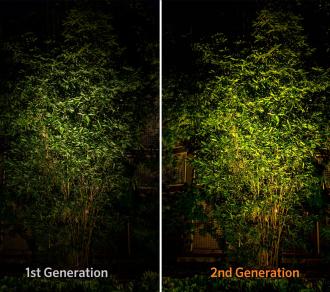 From efficacy to field life, LED technology is constantly evolving. FX Luminaire believes all customers deserve the best.
Continuing its legacy of setting the industry standard for innovation and performance in every product, FX Luminaire is excited to introduce 2nd Generation PowerBoard Technology, which maximizes lumen output, field life, and system flexibility for Designer Series fixtures.
LED Technology That's Bolder and Better
This upgrade gives customers a range of enhanced benefits to bring nighttime living spaces to life with the power of light:
Improved LED specifications for unmatched performance:
40–65% higher output for greater efficacy, meaning customers get more

lumens per watt

An Extended Minimum Rated Life of 72,000 hours for an additional 17,000 hours of functionality
35°, 60°, and 10° beam angle options included with most fixtures to create the perfect look
Based on customer feedback, color temperature lenses will no longer be included in each box. A dedicated 2,700K LED option will now be offered with every Designer Series fixture, eliminating the need for color filters. This change ensures better matching of color temperatures in systems that combine LED lamps and Designer Series integrated LEDs.
To simplify maintenance of current systems, new PowerBoard LED Replacement Kits are also available for servicing or upgrading.
2nd Generation PowerBoard Technology is available now.